Current Lundehunds living in household (plus other various dogs).
Lunnetosen Bonita

Hailing from Hedemora, Sweden, born May 19, 2010. from mother Vilma and father Kaspar. Commonly known as BunBun or Bonita Baybee, she is a whirlwind of fun. The Buns has great toes, striking markings, excellent conformation, beautiful face and happy personality. These all combine to make her the judges' darling at shows.



| | |
| --- | --- |
| Yes, it really, really, really, IS my toy | . . . And on tops of couches! |


Midnattsol Shimmey was born in Raffy and Bonita's litter in May 2013.


He is neutered and enjoys being a fat and happy pet.



The household Icelandic Sheepdog is Audur's Ofsi, born in 2013 in Albert

a, Canada. We call him Topsy. It fits his personality and rolls off the tongue a bit easier than Ofsi. He's not much of a substitute Lundehund, as he's loyal, obedient, and knows more than one trick. He got neutered early on, as he sometimes doesn't play well with other male dogs.




I'm sure I saw a squirrel around here, somewhere!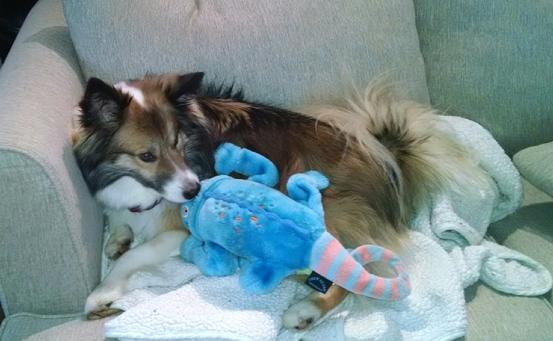 We ISD's love our toys.